Walk the back alley of retro cityscape
on the way back from Fujiyama
at dusk hears the voice of laughter
and the sound of glass clinking.
Welcome to
ShinSekai Kanpai Street.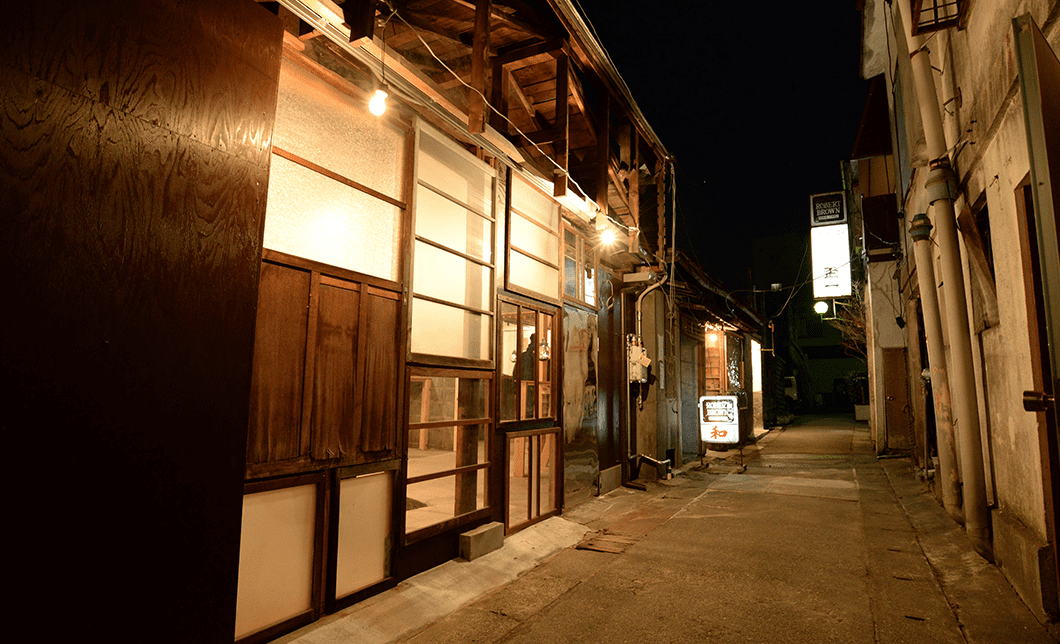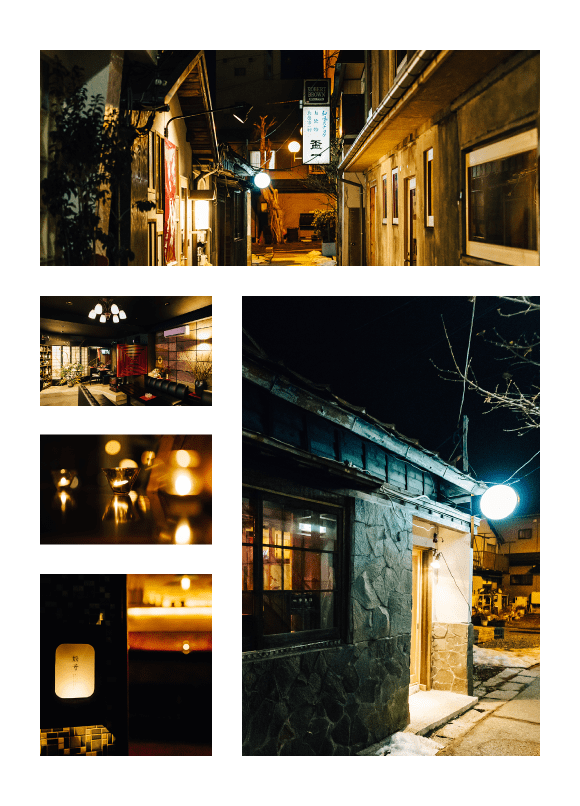 Restaurant Info
<Exclusive Bar/Lounge>Lounge Satomi

Hours

Tue-Sun 8:00PM-12:00Midnight

Closed

Mon

Phone

(+81)555-25-6664

Capacity

15 box seats / 5 counter seats
Recommended
menu
Drink set 4,000yen / Bottle 4,000yen ~

<Italian>Italian restaurant Kagishippo

Hours

Tue-Thu 6:00PM-11:00PM
Fri-Sat 6:00PM-2:00AM

Closed

Sun

Phone

(+81)555-73-8858

Capacity

20 table seats / 4 counter seats
Recommended
menu
Bagna cauda, Margarita, Creamy pasta

<Offal & Yakiniku>Offal & Yakiniku Bon

Hours

Wed-Sat 5:00PM-0:00AM

Closed

Tue

Phone

(+81)555-28-7071

Capacity

20 seats
Recommended
menu
Offal, Japanese black beef

<Bar>LINKS

Hours

Fri,Sta 8:00 PM-12:00Midnight

Closed

Sun,Mon-Thu(I can make a reservation)

Phone

-

Capacity

15 seats
Recommended
menu
Variety of alcohol

<Izakaya>Yakitori Miichan

Hours

Mon-Sat 6:00PM-12:00 Midnight
(Yakitori untill 10:00PM,
Other order until 11:30 PM)

Closed

Sun

Phone

(+81)555-24-5829

Capacity

10 table seats / 5 counter seats
Recommended
menu
Yakitori, Grilled tripe

<Bar>Masadon Kitchen

Hours

Everyday 7:45PM-12:00Midnight

Closed

Mon, Tue

Phone

-

Capacity

20 seats
Recommended
menu
Weekly Special, Chili Cheese Fries

<Bar>NOBLE

Hours

Everyday 10:00PM-Midnight

Closed

Sun, Mon, Tue

Phone

-

Capacity

10 seats, Dance floor
Recommended
menu
Variety of alcohol
Character Info
The staffs and the regular visitors of ShinSekai Kampai Street
If you meet them, go exchange "Kampai" !! Unless you break the manner, You can ask them anything.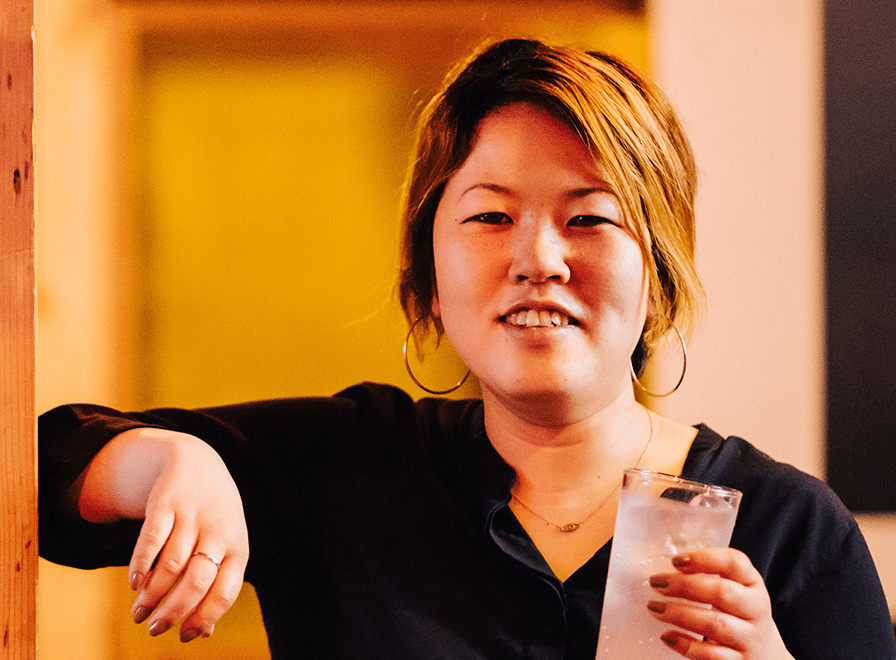 Lady boss of the ShinSekai Kampai StreetJumbe
Favorite phrase is "Go home with smile!" Her open character attracts everyone and makes her dependable person. Favorite drink is lemon sour. Currently rumored to be looking for someone who can not only drink together, but also fawn upon. Hobby is watching comedy and reading books.
The loyal customer of ShinSekai Kampai StreetOyabin

Favorite Movie is God Father, and he looks like one of the actor in the film. A very gentle and charming guy who loves the city of Fuji Yoshida, and wont't stop talking if you ask him about the future plan of the city. Favorite drink is Imo Shochu.

The loyal customer of ShinSekai Kampai StreetChi-san

One of the most attractive women in the City. No one suits the wine better than her, but her favorite drink is actually Highball and Shochu. She loves the atmosphere of different customers hanging around together in ShinSekai Kampai Street, and she will liven things up ( if she is drunk).
Owner of Lounge SatomiSatomi-san

Her attractiveness, lithe gestures, and the elegance makes her adorable. Not only every drink she makes is delicious, but she is also a good listner to anything you talk which makes your drink more delicious. The lounge is decorated with gorgeous interior and flowers, so you will have no problem spending long hours in this lounge.

Owner of Italian restaurant KagishippoRyon-kun

Handsome young man who loves music, movie, and watching sports especially baseball. If you want to talk with him, talk about baseball and you can get along with him. Likes to drink beers and whiskeys, or Play music on offday.

Owner of Offal & Yakiniku (Japanese-style barbecue)Yukini-

A tried and true Nishiura native, born and raised in the Nishiura neighborhood who's desire to liven up his birthplace led to the opening of this shop that prides itself on its unique menu of raw offal and Japanese black beef. A cheerful owner with a big heart and a big love for icy cold beer.

Owner of Yakitori MiichanTorako-san

Judging by his appearance, he looks like a guy who loves drinking beer, but he hates it. Judging by his appearance, he looks like a gentle guy with a Buddah-like smile, but actually he is a wild guy who commonly uses "Ahoka!!(you dumb!)". He is a manager of the local softball team Wildcats.

Owner of Masadon KitchenDoan

Donovan enjoys listening to everyone's stories. A teacher, writer, cook, and insomniac, Don does what he can to provide help and support to those around him. Thanks to the casual and comforting atmosphere of his place, many first dates happen at his bar.
The Q&A of ShinSekai Kampai Street
Please tell me the definition of "Kampai"

"Kampai" means "dry up the galss " in Japanese which means "cheers!".

If you come to ShinSekai Kampai Street, exchange "Kampai" with many people.

It is rumored that people in Fuji Yoshida loves drinking alcohol. Is it true?

Definitely.

This area was known for trading market of fabric back in the days, and it was a tradition for citizens to drink with people who came from other city.

What is the recommended way of drinking in this area?

Highball, Imo shochu with cold water, or whiskey with hot water on a cold day.

If I want to drink with local people, where should I go?

Come to ShinSekai Kampai Street first.

If you come at night, there are always local people hanging around. If you want to drinki with them, just ask the staff and we will coordinate, or maybe they will talk to you even without the coordinate.

If I want to go to different place, which restaurant / bar is recommended.

It depends on people you ask.

Ask the local people for their recommendation and maybe, they will take you to their favorites.

I came here by car... but because of the atmosphere, I want to change my mind and drink! Is there anyway somecan take me home?

Off Course! DUI is definitely illegal, so if you came by the car and you want to drink, you can use the designated driver service.

The price raages around 300yen per kilometer.
Price varies depending on service. It is highly recommended to ask the price beforehand to avoid the trouble.

●Fuji Yoshida Driver Designated Service

●Akane Driver Designated Service

●Nico Nico Safety Driver Designated Service

●Joy Driver Designated Service

●Hayabusa Driver Designated Service

* There are taxi service also. Ask the staff if you want to use it.

I went to every restaurant in this street, but I want to go more.

Conguratuation on going to every restaurant.

Now, let's challenge to more deep restaurant of Nishiura area.
Access&Contact
ShinSekai Kanpai Street
Address: 3 Chome-12-72 Shimoyoshida,Yamanashi
Google Map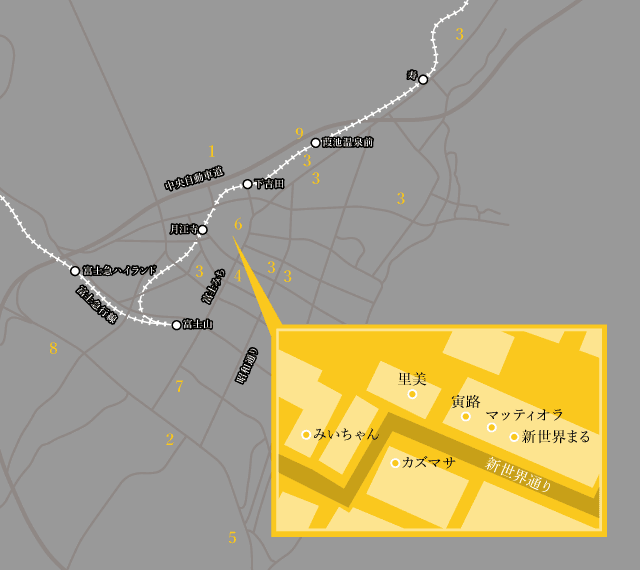 Fuji Yoshida Spot Info